Aftermarket
Type
Collection
Start date
Oct 06 2020
End date
Oct 20 2020
Duration
14 days
During
Season 6
Gamemode
Flashpoint
Mythic Set
Caustic's Heirloom Set

Aftermarket was a Collection Event for

Season 6 of Apex Legends that ran from October 6th, 2020 to October 20th, 2020.
Cross platform play
[
]
The beta of cross platform play (cross-play or crossplay for short) is introduced with the event featuring all the available platforms at the time (

PlayStation 4,

Xbox One, and

Origin). It is enabled by default.
Console players play together and PC players play together; parties with a PC player and a console player are sent to PC matches.
Flashpoint
[
]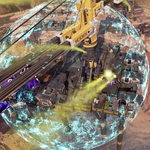 The centerpiece of this mode are flashpoints, massive zones dotted around towns in Kings Canyon, that regenerate your health and shields over time. Flashpoints have fixed locations. Flashpoints are crucial to helping you stay alive since healing items do not spawn in this mode; however, you'll be able to craft

Phoenix Kits at
Replicators.

Respawn Beacons are removed from the map as well, but you'll still be able to respawn your teammate(s) with

Mobile Respawn Beacons.
The circle in this mode works the same way as in Always Be Closing - it never stops closing, and it will always close on a Flashpoint.
Challenges
[
]
This event continued to utilize the LTM challenge

Badge system from the
Lost Treasures event.
Challenge
Reward
Deal 10,000 damage in flashpoint zones in Flashpoint
Badge -

Aftermarket Dealer

Kill 100 enemies in flashpoint zones in Flashpoint
Badge -

Aftermarket Assassin

Win 10 Flashpoint games
Badge -

Aftermarket Professional

Earn all other Flashpoint badges
Badge -

Aftermarket Master
Challenge rewards
[
]
Badges
Prize Track
[
]
This event continued utilizing the Prize Track system, and the maximum amount of points you could've gotten was 5000.
Prize track rewards
[
]
Legend Skin
Weapon Skins
Weapon Charms
Badges
Transition
Music Pack
Aftermarket Collection
[
]
The Aftermarket Collection is a set of 24 cosmetics exclusive to the event. The collection cosmetics can be obtained by:
Purchasing event-exclusive Aftermarket packs for 700 which will give out one collection cosmetic and two cosmetics from the normal loot table.
By direct purchase from the Store: 1,800 for

Legendary

items and 1,000 for

Epics

.
Completion of the Aftermarket Collection allows the player to unlock Caustic's Heirloom Set before it was added to the Mythic Store.
Collection cosmetics
[
]
Legend Skins
Weapon Skins
Weapon Charms
Banner Poses
Skydive Emotes
Store special offers
[
]
Legend Skins
Code Red
Bloodhound
500

Score Secured
Pathfinder
500
Weapon Skins
Hot Spot
P2020
500

Throwin Down
Mastiff Shotgun
500

Pulsive
HAVOC Rifle
500
Weapon Charms
Bundles
[
]
Notes
[
]
↑

All players who logged in during the event received this reward.
Events
Preseason
Season 1
Season 2
Season 3
Season 4
Season 5
Season 6

September Soirée

 • 

Aftermarket

 • 

A Wee Experiment

 • 

Fight or Fright

Season 7
Season 8
Season 9
Season 10
Season 11
Season 12
Bolded events are major events. Italicized events are Apex Chronicles.