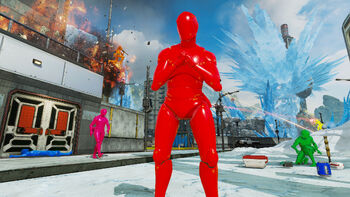 DUMMIEs (Digital Utility Mock Man Intelligent Example) are recurring stand-ins for legends used in various parts of the game.
Appearances include:
DUMMIE's Big Day
[
]
In the
Grand Soirée game mode DUMMIE's Big Day, all legends are replaced with eight different colors of DUMMIE. The DUMMIE's portrait and character select color are similar to Bangalore's portrait and character select color. DUMMIEs uses various animations, such as Bangalore's character select and Reversal of Fortune execution animations. The DUMMIE's banner card uses Bangalore's Rookie Card frame and At Ease pose, as well as the Account Level badge without any Stat Trackers equipped. Although DUMMIEs can't talk, they use text chat as communication during gameplay. Playing as DUMMIE does not count towards its own stats, unlike all of the Legends in the game, but it does count towards the account stats.
Abilities
[
]
The DUMMIE is a Disposable Hero. Their abilities are:
Trivia
[
]
References
[
]