| | |
| --- | --- |
| | This article is about the 2020 Themed Event. For the 2019 Collection Event, see Holo-Day Bash (2019). |
Holo-Day Bash (2020)
Type
Themed
Start date
Dec 01 2020
End date
Jan 04 2021
Duration
35 days
During
Season 7
Gamemode
Winter Express

Holo-Day Bash was a Themed Event for

Season 7 of Apex Legends that ran from December 1, 2020 to January 4, 2021. It featured a sale containing bundles with skins from the

Holo-Day Bash (2019) along with new Cosmetics. It also featured an End of Year sale which started on December 22, containing skins from
The Old Ways event, Apex Pack bundles, and new cosmetics.
Winter Express
[
]
Winter Express is a round-based mode where three squads battle for control of the train as it makes its way around World's Edge. This year, when your squad respawns after a round has finished, you will spawn on your own supply ship as it follows the train. From here, your squad will be able to survey the battlefield and skydive into combat as the train arrives at its next station and the objective unlocks. The squad that won the previous round will respawn directly on the train.
A new station was also added for the train to stop at: Derailment is the scene of a catastrophic accident that occurred as a cargo train traveling the opposite direction took a tricky turn at high speed. This new station has a variety of flanking opportunities and a unique rotation under the bridge where the train stops. This allows you to quickly change which side of the objective you're attacking.
Challenges
[
]
This event continued to utilize the LTM challenge

Badge system for Winter Express.
Challenge
Reward
Deal 10,000 damage in Winter Express
Badge -

Pain Train Conductor

Kill 100 enemies in Winter Express
Badge -

Ticket Puncher

Capture the Train or be the Last Squad Alive 100 times
Badge -

Holo-Day Survivor

Earn all other Winter Express badges
Badge -

Holo-Day Master
Challenge rewards
[
]
Badges
Prize Track
[
]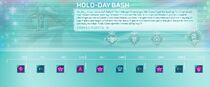 This event utilized the Prize Track system, and the maximum amount of points you could've gotten was 4000.
Prize Track Rewards
[
]
Legend Skins
Weapon Charms
Badges
Holospray
Music Pack
Store Cosmetics
[
]
Legend Skins
[
]
Weapon Skins
[
]
Bundles
[
]
End of Year Sale
[
]
Legend Skins
[
]
Bundles
[
]
Notes
[
]
↑

All players who logged into the event received these rewards.

↑ This is only given to players who have not received it during the previous Holo-Day Bash (2019) event.
Events
Preseason
Season 1
Season 2
Season 3
Season 4
Season 5
Season 6
Season 7

Black Friday

 • 

Holo-Day Bash

 • 

Fight Night

Season 8
Season 9
Season 10
Season 11
Season 12
Season 13
Bolded events are major events. Italicized events are Apex Chronicles.