"
I've always felt it in my blood. I am a thief. And a good one at that. It was the only way I felt true to myself. And those same feelings grew into opportunity. I honed my skills, and enhanced my methods. With success came wealth, power, and friendship. I was the best, and everyone knew it. But something was always missing.
Loba is a Legend that was introduced in

Season 5 that is locked from the base game. She can be unlocked using digital currency: either

12,000 or

750, or by buying the Champion Edition.
A
Support Legend specializing in getting the highest quality loot. Her tactical ability
Burglar's Best Friend allows her to throw a bracelet that teleports her to wherever it lands. Her passive

Eye for Quality causes her to see and ping Purple and Gold-tier loot through walls. Her ultimate ability
Black Market Boutique places a pillar that allows any player that interacts with it to teleport ammunition and up to two items from the surrounding area directly into their inventory.
Abilities
[
]
Burglar's Best Friend
[
]
Eye for Quality
[
]
Black Market Boutique
[
]
Lore
[
]
"
When Loba was nine, she looked on as simulacrum hitman Revenant killed her family. Left with nothing, Loba survived by picking pockets. As her skills improved, Loba used every tool at her disposal to lift herself from the gutter. Everything changed when she broke into a supposedly impenetrable facility and got her hands on the Jump Drive tech stored inside. With her new teleportation bracelet, the most secure and unattainable items were within her reach. So was her dream of living the high life.

Rumors spread across the Outlands: if you wanted something valuable and well guarded, Loba's who you go to. She was almost able to put her past behind her. But when Revenant joined the Games, her past catapulted into her future. Desperate to find a way to kill him, she sabotaged a facility full of Revenant bodies, bringing Skull Town and Thunderdome crashing down in the process. However, she learned it was just one of many such factories hidden across the Frontier. Now, she's joined the Games to find a way to end him for good. It doesn't hurt that the Arenas are brimming with treasures just waiting to be plucked.

Revenge will come, if fortune favors her. In the meantime, some shiny things have caught her eye.
Cosmetic Items
[
]
Skins
[
]
There are a total of 65 Legend skins for Loba; 16 Legendary, 12 Epic, 21 Rare and 16 Common.
Badges
[
]
Finishers
[
]
Emotes
[
]
Skydive Emotes
[
]
Banner Frames
[
]
Holo-Sprays
[
]
Music Packs
[
]
Transition
[
]
Voice lines
[
]
History
[
]
Patch notes
Burglar's Best Friend:

Can now run and slide at full speed while aiming the bracelet and while the bracelet is in the air.
Loba will no longer be slowed after translocating.
Fixed a lot of bugs that caused bracelet tosses to fail.

Black Market Boutique: Increased cooldown from 90s to 120s.
The

Red Handed

skin on consoles will now properly animate.
Loot inside unopened Care Packages is now visible with Eye for Quality and accessible through the Black Market Boutique.
Burglar's Best Friend: Fixed a few exploitable areas on Kings Canyon that Loba was able to reach via her Bracelet.
[Undocumented] Fixed an issue with the

Crystalline Perfection

skin having an unfinished tiara.
Black Market Boutique: Ammo taken no longer has a maximum limit nor takes up space towards the two items allowed to be taken.
Eye for Quality and Black Market Boutique: Increased range from 3100 units to 4500 units (77.5m to 112.5m).
Black Market Boutique: Is now 50% charged at the start of every match.
Burglar's Best Friend:

Fixed inconsistencies with teleporting onto a supply ship.
Fixed an issue allowing teleporting into drills around Lava Fissure.
Fixed an issue preventing teleporting on certain terrain in Staging.
Black Market Boutique:

Reduced cooldown from 3 minutes to 90 seconds.
Fixed an issue with it not being pingable.

Burglar's Best Friend: Fixed an issue with enemies getting teleported with Loba when they melee her when she teleports.
Burglar's Best Friend: Addressed Loba's bracelet usability on World's Edge. There are still some known cases we're continuing to work on but it should work much better now.
Burglar's Best Friend:

No longer intercepted by Wattson's Interception Pylon.
Fixed issues with Loba being able to get to out of bounds areas using the bracelet.
Fixed an issue with Loba's bracelet being blocked by an invisible collision at the entrance of the Firing Range.
Fixed an issue preventing teleporting in certain areas.

Black Market Boutique:

Will now only pick up 1 stack of ammo (rather than 1 stack + the amount that was required to fill whatever partial stack you had in your inventory).
Fixed an issue with it not showing the correct range.
Now shows correct ammo count for care package weapons.
Now refunded if it gets caught between two doors.

Ultimate Accelerants now give her 20% ultimate charge (from 17.5%).
Development
[
]
Loba had been in the works since October of 2018.[2]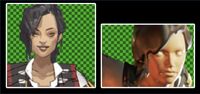 A year before the game's launch, there was a Legend called "Rosie" with abilities very similar to Loba. Writers Tom Casiello and Ashley Reed confirmed that Rosie was a completely different character and was scrapped.[3] Despite this, Loba's datamined files still used the codename Rosie suggesting Loba had replaced Rosie.
Loba was created by Tom Casiello. He was influenced by the women he worked with on WWE, who wanted to be equal to, but different from, men. When he saw the lineup of female characters, he noticed an "erasure" of sexuality in their designs and designed Loba to be a woman who likes to look good. He pitched the character and it gathered support among the female employees of Respawn Entertainment. He intended Loba to be a character that women would "own" and would want to be.[3]
Ashley Reed wrote Loba as "Catwoman but with Batman's backstory." Reed was inspired by the video game character Bayonetta while writing Loba's dialogue. She often watched and listened to Shakira's single, She Wolf and the Spanish version, Loba.[3]
Loba's in-game model is created by Patrick Yeung, who previously worked as a character artist on the Avatar film franchise.
When developing Loba, the developers thought of Wattson and made Loba into her literary foil - a "mirror" or "opposite" character.[2]
Loba was a turning point for the writers of Apex Legends. As they weaved her and Revenant's stories together, they wondered how else could Legends affect one another.[3]
According to the developers, Loba's mocap work was done with heels on.[2] With this information, Tina Sanchez can be identified as Loba's mocap actress: Nine months before Loba's release, Sanchez tweeted out two images of herself doing mocap work with heels and a stick.
Tina Sanchez's input was reportedly instrumental and vital to Loba's look, style, personality, and story, ever since Loba first got pitched.[4]
Earlier in her development, Loba had an ability that allowed her to scan the area, revealing different types of loot through walls.
[

]
On January 30, 2020, Loba's character was officially introduced in the Season 4 Launch Trailer, which shows Revenant murdering both of her parents, Marcos and Alanza Andrade, on Olympus, Psamathe. Loba was left unnamed, but shown to have survived the attack.
On April 16, 2020, a device appeared in a building in The Dome. This device is similar to banner cards and depicts a map of Singh Labs with a note: "More sub-level rooms... Connections? Where?"
On April 20, 2020, a second device appeared in Sorting Factory. This one continues the map, showing a massive circular structure connected to the labs, and says "Electrical device? Check with Jaime" and "More tunnels... check west half of island"
On April 24, 2020, the third and final device appeared in Harvester. This one shows the center of the circular structure and says "Jaime says 'capacitor'", "How big is this?", and "Cased the place dead-end, check west".
On April 28, 2020, a tweet from the Apex Legends Twitter account shows 'Project 617', where someone seems to be gathering information on Revenant. They've acquired previously seen email chains about him and are wondering how to access his source code.
On April 29, 2020, another tweet showed that this person is now researching simulacrums and digging through early tests by Hammond Robotics.
On April 30, 2020, "Legacy of a Thief" was released, officially establishing Loba as the next Legend for Season 5, and showing that she can teleport.

The same day, Loba begins appearing in the background of the lobby screen. She walks behind the banners, at one point she even whips her braid. At the end of the animation, she uses her Tactical Ability to disappear from the lobby.

On May 1, 2020, a third tweet showed an additional early document from Revenant's construction.

The vault at Train Yard is now empty. A hologram left by Loba taunts players, daring them to find her. In the back of the room is a bracelet, which players can interact with. Doing so briefly teleports them to a massive hangar full of dormant Stalkers, and they are activated as the player teleports back. The minimap shows that this hangar is underground, northwest of Skull Town.
An Instagram post states Loba is a well-known 'trendsetter and art aficionado' and has been seen in Solace City, specifically at Mirage's bar.

On May 4, 2020, an Instagram post showed Loba's conversation with Jaime. She explores the underground base, calling it a maze, and Jaime sends her the access key.
On May 5, 2020, the Season 5 Launch Trailer was released.
On May 8, 2020, the Season 5 Gameplay Trailer was released.
Trivia
[
]
During the 3rd Anniversary collection event, skins were released based on Loba's

Purple Reign

skin -

Air Orchid

for Valkyrie and

Violet Veteran

for Bangalore.
Loba's artwork seems to feature a P2020 with a similar design to the

Ivory Fang

skin.
Gallery
[
]
Videos
Images
Blueprints of the ARES Capacitor beneath Kings Canyon.[6] The Syndicate later excavates it in Season 5.

Loba's conversation with Jaime while exploring the underground IMC facility.[7]

Final concept art of Loba.[8]

Concept art of Loba's Black Market Boutique.[8]

Concept art of Loba's Gold Standard skin.[9]

Concept art of young Loba.[10]
Merchandise
See Also
[
]
References
[
]
Legends in Apex Legends
Bloodhound
•
Gibraltar
•
Lifeline
•
Pathfinder
•
Wraith
Valkyrie
•
Seer
•
Ash
•

Mad Maggie
•
Newcastle
Bolded Legends must be unlocked with

750 or

12,000.