New Content
[
]
New Map: Olympus

Kings Canyon vaulted, will be brought back at the end of the season

New Vehicle: The Trident
New game feature: Clubs
New LTM: Olympus Preview - available Nov 04 to Nov 11
New platform avaliable: Steam
New challenge system for Battle Pass progress
New Hop-Up:

Quickdraw Holster

New Quest: Family Portrait
Legends
[
]
Nox Gas Trap/ Nox Gas Grenade:

Players no longer get a blurred vision effect while in the gas.
Damage increased from 4-10 ticks of damage to 6-12 ticks of damage.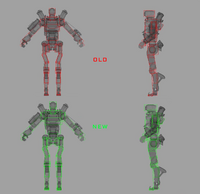 Made adjustments to Pathfinder's hitbox.[note 9]
Grappling Hook[note 10]:

Pathfinder no longer needs to be on the ground for the ability to be considered finished.
The speed to which Pathfinder needs to drop to be considered finished was increased from 300 units per second to 500 units per second.
Reduced maximum cooldown from 35 seconds to 30 seconds; reduced maximum amount of travel time before a new cooldown is set from uncapped to 5 seconds.[note 11]
The amount of distance you can travel before you hit maximum cooldown was roughly doubled.
Weapons and Loot
[
]
Fully Kitted Weapons

rotated for Season 7
Removed from Care Package and is now ground loot.
Damage reduced from 12 to 11.
Magazine size reduced back from 32 to 20 /

22

/

24

/

27

.
Removed from normal loot pool and is now a Care Package weapon.
Magazine size increased from 20 to 35.
Increased horizontal recoil of the first 3 shots slightly to the right (first burst when in burst mode) and increased recoil magnitude in the later stages of the pattern.
Reduced recoil multiplier in single fire mode to help compensate for additional recoil in pattern. Recoil should mostly be increased in burst mode rather than single fire mode.
Reduced headshot multiplier from 2.0 to 1.75.[note 14]
Updated recoil pattern. Kicks up, then right, then left, then up again.
New recoil pattern that kicks horizontally at first and then settles into a relatively consistent upward recoil. Players who feather the trigger will be able to keep the L-STAR in the good portion of the recoil pattern.
Venting time after letting go of the trigger has been reduced from 0.4s to 0.15s.
Will now reduce heat faster when not overheated -- 1.15s from 99.9% to 0% charge if not overheated, still 2.45s if overheated.
Energized Sentinel now has a pure damage increase, instead of bonus damage only vs shields.
Energized Sentinel base damage increased from 70 to 88.
Fire rate reduced from 1.3 to 1.2.
Quality of Life
[
]
Attachment Swap Improvements
When replacing an attachment with one from the ground, if the old attachment is an improvement for your other weapon, the old attachment will get automatically transferred.
Replicator Updates
Removed weapons from the Crafting pool; replaced with Shield Batteries. The high-level attachments will still be tailored towards a weapon category.
Now prevents other players from picking up items that you crafted within 5 seconds after crafting. This can be disabled by pinging the item.
Airdrop Clarity
The colors of the beams have been changed to differentiate between normal Care Packages, Lifeline's Care Packages, and Replicators. Normal drops are a light tan, Lifeline's drops are blue, and Replicator drops are teal.

All of the airdrops' landing area FX while it's coming down matches their colors.
Airdrop beams still stay visible when close to the airdrop, instead of fading when you get close. The beam still disappears when the pod is opened.
Miscellaneous
The Arc Star now shows an Arc Star model when one is thrown near you, instead of a Frag Grenade.
Added a new VO line when you are using a Phoenix Kit.
Added a new VO line when you drop a Holo-Spray.
You can now ping ammo in your inventory to request more from your squad.
Made modifications to The Ring to reduce the amount of unplayable space in the circles.
Game Meta
[
]
Damage to

White

: 50 to 100.
Damage to

Blue

: 125 to 150.
Damage to

Purple

: 250 to 300.
Damage to

Red

: 500 to 750.
Ring damage
Ring 1: 2% per tick (same)
Ring 2: 3% per tick (from 5%)[note 21]
Ring 3: 5% per tick (from 10%)
Rings 4 and 5: 10% per tick (from 20%)
Rings 6 and 7: 15% per tick (from 25%)
Bug Fixes
[
]
Audio
We've made some advancements in footstep audio playing more reliably. We have more work being done that we'll continue to roll out as it gets completed.
Zipline Gun: Fixed an issue with ziplines going through platforms when deployed from underneath.
Dimensional Rift: Fixed an issue with priming a grenade cancelling Wraith's ultimate.
Launch Pad: Fixed an issue with getting stuck in double jump after using a jump pad.
Fixed an issue with Octane being able to use healing items while on a zipline.
Surveillance Drone:

Fixed an issue with the drone being able to drop items from Crypto's inventory.
Fixed an issue with the drone not being able to fit through certain windows.
Fixed an issue with the drone marking friendly Mirage decoys as enemies.
Death Totem: Fixed an issue with Revenant getting pushed into geo when his totem was deployed in tight spaces.
Amped Cover: Fixed an issue with not being able to place an amp wall while jumping.
Emplaced Minigun "Sheila": Fixed an issue with Sheila teleporting when placed on a hatch in World's Edge Staging.
Undocumented changes
[
]
Added editions to the store tab.
Updated DUMMIE model in the Firing Range.
Brought back "Half the squads remain" voice lines after they were removed a while before.
When your teammate is reviving a player, it now shows up in the feed. You can now hear voice lines when a teammate is being revived even if you aren't reviving/being revived.
Rampart can now put her Emplaced Minigun "Sheila" on Crypto's Surveillance Drone (proven to be a bug).
Reduced shots before overheat on the L-STAR EMG from 23 to 22.
Added badges for the upcoming winter event.
Added new club badges.
Developer notes
[
]