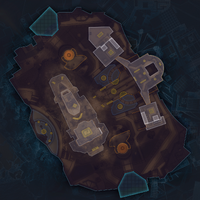 Party Crasher is a custom

Arenas map introduced in

Season 9 located on the planet Solace.

Its main feature is the crashed Mirage Voyage, which makes up half of the map. The opposite half contains a two-story building with a central staircase. These two sides are connected by a low bridge.
Lore
[
]
While taking the Mirage Voyage on a joyride through the former IMC controlled hotspot Kómma on planet Solace, Mirage lost control of the ship and crashed it into a plaza. Any other person would have spent the rest of their life paying the bill for such a blunder, but since this once thriving city full of gambling, clubs, and home to various questionable activities has become a ghost town, Mirage, the Apex Legend he is, struck a deal with the current owners. With support of the upcoming Arenas matches, Mirage cleared his debt by assisting to reignite the city and put it back on the map.[1]
Gallery
[
]
References
[
]