"
I'm Marvin, but my best friends call me Pathfinder. I love being an Apex Legend because that means my banner is on display for everyone in the Outlands to see, especially my creator whoever they are. Competing alongside so many skilled fighters each match is really cool and it makes me very excited to know that I am everyone's favorite squadmate to fight with; my friend Mirage told me that. He also said that I don't get sarcasm, which was also nice to hear...I think.[1]
Pathfinder is a Legend that is free and unlocked in the base game.
Pathfinder is a
Recon Legend very useful on movement and rotation. His

Grappling Hook ability allows you to reach higher places and to tactically reposition while his

Insider Knowledge and

Zipline Gun abilities allow him to support your squad by letting them know the position of the next ring and provide a zipline on-the-fly to allow quick escapes and to reposition respectively.
Abilities
Grappling Hook
Insider Knowledge
Zipline Gun
Recon
Lore
First booted up on February 04, 2658, as part of Project Iris' by "The Group", Pathfinder is a heavily modified MRVN (Mobile Robotic Versatile eNtity), made to assist the Group in their task of refining Branthium. His modifications include, among other things, a chassis with reinforced metal; a specialized heat shield to withstand high temperature; state-of-the-art facial recognition software; customized programming and IDCOMS Frame[2]that allowed him to verbalize, as well as access to extensive medical and physics knowledge. This allowed him to perform autonomously the complicated tasks that the human members of Project Iris can't. He was also given an amalgamation of each of his creator's personalities and the capability to learn from experience. After they were able to successfully refine their first batch of Branthium however, Dr. Ashleigh Reed, one of his creators, betrayed the rest of her colleagues, setting off a chain of events that led to the Phase Runner Accident on Olympus.[3]
He then eventually booted up again thirty-three years ago in an abandoned laboratory with no idea who created him or why. With only his MRVN designation to hint at his identity, Pathfinder set off in search of his creator by stowing on merchant ships and traveling everywhere between Solace to Gaea for a couple of years. After one of his legs broke due to someone attempting to steal said leg, he took odd jobs to gain information about his maker and to get the money to fix his leg.[4]
In 2725, while working as a waiter in Malta, he met Victor Maldera who arrested him after inadvertently killing one of the restaurant's customers. Maldera took a look at his logs and saw that Pathfinder was able to witness, and have video evidence, of Alexander Nox's escape from the Humbert Labs. Maldera, who was obsessively pursuing the case, wanted to get a copy of the footage, it was during this that Pathfinder had the first actual clue to one of his creators, a certain Amélie P. The resulting scuffle (due to him witnessing a mafia member murdering another person) had him incapacitated for an unknown amount of time, although he was eventually activated again[5] and promptly resumed his search.[6]
It was during a chance meeting with bartender Elliott Witt in Solace City that he learned about the Apex Games.[7] It has been four years since then, and he has learned a lot from his travels and his experiences in the games, but he was nowhere close to finding his creator than he was before.[8] That was until he found a depreciated MRVN unit on Olympus, and with help from Lifeline, Octane and Gibraltar, find the required battery to power it up.[9] The now-activated MRVN played an audio log that gave Pathfinder more clues about his creator, or creators. With notes from the audio logs on hand he went on a quest to look for answers from his friends, the Legends.[10]
This quest of his drew to an end on Kuben Blisk's office at Syndicate Tower, with the Apex Games Commissioner providing him with the truth about his creators and a photo of them.[3]. However, Blisk's musing about "another one" that was made from his spare parts gave Pathfinder a new purpose: to find his "child".[11]
Pathfinder's Creators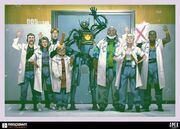 From left to right[3]:
Cosmetic items
Skins
There are a total of 74 Legend skins for Pathfinder: 25 Legendary, 9 Epic, 24 Rare and 16 Common.
Finishers
Friendly Introduction
Default
Badges
Heirloom Set
This set was made available during the

Holo-Day Bash event. Anyone who completed the Holo-Day Bash Collection set was given this automatically.
The set contains:
A Melee Weapon Skin:

Boxing Gloves

A Banner Pose:

Lights Out

A Kill Quip:

"Did you see how great I was? I did all kinds of really amazing moves... are you listening?"
Emotes
Skydive Emotes
Holosprays
Music Packs
Loading Screens
Voice lines
History
Patch notes
Grappling Hook:

Pathfinder no longer needs to be on the ground for Grappling Hook to be considered finished.
The speed to which Pathfinder needs to drop for Grappling Hook to be considered finished was increased from 300 units per second to 500 units per second.
Reduced maximum cooldown from 35 seconds to 30.
Reduced maximum travel time to 5 seconds, instead of uncapped. This means that effectively, you can never incur more than a 35-second cooldown.
The amount of distance you can travel before you hit maximum cooldown was roughly doubled.

Zipline Gun: Fixed an issue with ziplines going through platforms when deployed from underneath.
Made adjustments to Pathfinder's hitbox.
Fixed an issue with Pathfinder's shoulder staying in view after using Grappling Hook.
Grappling Hook: Cooldown is now based on the distance traveled. The shortest possible pull has a 10s cooldown; the maximum cooldown is still 35s.
(Undocumented) Grappling Hook: Increased cooldown from 13 seconds to 15 seconds.
Low Profile: Leg shots now deal as much damage as body shots.
Grappling Hook: Reduced the grapple projectile velocity by 33%, meaning it takes a fraction of a second longer to connect the grapple to the wall. The behavior, once you are connected, remains the same.
Insider Knowledge: Fixed a bug where Survey Beacon locations would disappear from the full map after activating them.
Zipline Gun: Increased cooldown from 90 seconds to 120 seconds.
Made adjustments to hitbox.
Zipline Gun: Fixed a bug where activating a healing item while aiming the zipline would cancel it.
Updated the hit box to better conform with the base model.
Added Low Profile Perk which increases incoming damage by 5%.
Grappling Hook:

When grappling a zipline, the trajectory will now pull players to a point below the zipline rather than above. This makes it so players are more likely to connect with the zipline instead of flying over it.
Now has a blue crosshair indicator that will appear when the Grapple is in range of objects it can connect to.

Zipline Gun: Added cooldown [.5 seconds] before you can reuse the last zipline you were on.
Adjusted hitboxes for Gibraltar, Caustic, and Pathfinder to better align with their shapes.
Insider Knowledge: Increased the number of beacons in the world from 10 to 12.
Zipline Gun: Fixed zipline not deploying when jumping.
Grappling Hook:

Pathfinder can now grapple ziplines.
Fixed the exploit where you could do infinite wall-climb.
Trivia
Pathfinder's abilities are derived from Titanfall 2's Grapple tactical ability. His interest in high-fives is a reference to a MRVN who would attempt to high-five players on the dropship, only to become sad when it receives none.
Pathfinder is one of the only Legends in the game with a hitbox that does not follow the small, large, or medium rigs.[12] Pathfinder was originally on the large rig (like Caustic and Gibraltar), but because he is so skinny, Pathfinder would get hit by bullets that look like they should miss him. As a result, he was given a unique tall but thin hitbox to better match his model. This dramatically increased his win rate and he had to be given Low Profile to compensate.[13] Pathfinder's hitbox was increased in Season 7 and Low Profile was later removed.
Pathfinder has many interactions with Bloodhound's raven Artur, who attacks him. In the Season 3 Launch Trailer, Bloodhound kills Pathfinder "for Artur," which could either be for the raven, or for Bloodhound's late uncle that the raven is named after. Bloodhound and their uncle were from a tribe that spurned technology.
Pathfinder is currently the only legend to switch legend classes. Up until Season 4, he was originally classified as a Support Legend but is now classified as a Recon Legend.
When asked if Pathfinder ever had sex, community manager Jay Frechette vaguely (and likely jokingly) replied that Pathfinder has been around for a long time and may have stories.[14] However, writer Tom Casiello tweeted that he disagreed with the idea of Pathfinder being with anyone romantically.[15]
Pathfinder is not capable of lying. Originally there was a segment about it for "The Broken Ghost" but it got cut due to length.[16]
In the "Family Portrait" comic, Pathfinder goes to a party wearing his

SRVN MRVN

skin, making that skin canonical. When it was pointed out that Pathfinder changed his entire body just to go to a party, writer Tom Casiello stated the inclusion of the skin was debated internally. Ultimately, "it's just fun" won over logic and Tom asked people not to dwell on it or overthink it.[17]
His first words, according to Pathfinder's Quest, is "Who doesn't like ice cream? Every kid likes ice cream!" The line is likely spoken or influenced by one of his creators Dr. Armen Fletcher who have a love of ice cream. The same line is repeated by Ash during the Broken Ghost quests.
According to Blisk, spare parts of Pathfinder is rumored to be used to create another MRVN[18]
Gallery
Videos
Images
Merchandise
References
Legends
Bloodhound
•
Gibraltar
•
Lifeline
•
Pathfinder
•
Wraith
Bolded Legends must be unlocked with

750 or

12,000.