"
Right, mate. I've been knocked down, taken out, hit from both sides hundreds of times - and that was just in a one gauntlet run on a Thursday. But this... this one was a blast! Big Sister's crap of a gang blindsided me at the shop. I mean, do they think they're from the bloody Fringe Worlds? They ain't that tough. I'm just sayin' if ya gonna throw a party at least book a DJ... or a band if you prefer real music, but don't just show up causin' a ruckus and expect not to get a punch in the bloody face. Those plonkers were just pissed that I ran circles around them in the club - cleaned 'em out pretty good if I don't say so myself. But I ain't stayin' down. Never do. And now, I'm in the bloody big leagues. No more brawlin' for coin against small-town street gangs -

Ab aur nahin

. My shop may be gone, but the name 'Rampart' ain't. I reckon only one thing left to do... go out, make it Legendary, and be back in time for a midnight pint. Now THAT's a Thursday.[1]
Rampart is a Legend introduced in

Season 6 that is locked from the base game. She can be unlocked using digital currency: either

12,000 or

750, or by buying the Champion Edition.
Rampart is a

Defensive Legend that specializes in securing areas through firepower. Her tactical ability

Amped Cover places a rectangular wall. The upper half of a wall blocks a certain amount of bullets taken from one direction, and enhances any bullets fired through from the other direction. Her passive ability

Modded Loader increases reload speed and magazine size with LMGs and her ultimate. Her ultimate ability

Mobile Minigun "Sheila" allows her to use a minigun that she can either carry or place down, but it can only be reloaded while immobile.
Abilities
[
]
Amped Cover
[
]
Modded Loader
[
]
Mobile Minigun "Sheila"
[
]
Lore
[
]
"
Rampart is a blue-collar, private business owner who just needs a big gun and a backpack full of scrap metal to get by in the dangerous, wild west world of the Outlands. Before opening her popular modding shop on Gaea, Ramya Parekh (Rampart for short) made a name for herself in the underground gauntlet circuit. Parekh climbed to the top showcasing pure skill using her custom-modded gear. She began taking jobs from smugglers, Syndicate members, and everyone in between. Some say it ain't great unless it's got "Rampart" written on it.

Parekh never shied away from letting people know how great she was, or better yet, how bad they were. Maybe that's what led a group of assailants to ambush her at her shop one night. Her business burned down and she was left with nothing -- except an Apex Card. For Parekh, the Apex card is more than just an invitation to compete - it's a sign that she may have lost her shop, but she didn't lose what built it. Like her motto says, she's the kind of person who can always "turn crap into gold."
Background
[
]
Ramya Parekh was born in 2712 on Gaea. She spent much of her childhood tinkering in junkyards, where her possibly adoptive parents, M. and S. Parekh, once found her. [3] An early creation of hers allowed for excessively rapid firing of paintballs, fast enough to surprise her that it did not start a fire. [4]
Over time, Parekh began to make a name for herself through two endeavors - her custom equipment and her success in Arenas matches. During her tenure, she and Seer attained a great amount of perfect victories. [5] She eventually opened Rampart Mods, a custom weapon shop, on Gaea. [6]
One night, Parekh encountered Valkyrie at a bar. The two quickly became friends, and Parekh, hearing Valkyrie's story about an ex-partner, decided to jokingly name her minigun "Sheila." [7]
At some point, Parekh became involved with a gang led by an individual known as Big Sister. The gang's enforcer, Frances, ordered Parekh to intentionally lose a gauntlet run. However, she refused. [8]
The Endorsement
[
]
One night at Rampart Mods, after sharing a drink with Bangalore and Gibraltar, Frances and other members of Big Sister's gang cornered Parekh at Rampart Mods. Seeking revenge for Parekh's refusal to throw her match and a presumed financial loss on their part, they attack, with Parekh defending herself using her Amped Cover and her minigun, Sheila. After seemingly subduing her attackers, Big Sister arrives, and a gang member seizes the opening to attack Parekh. The assailants burn her shop down, leaving only Sheila and the store's sign intact. [9]
After the gang departs, Parekh is met by Kuben Blisk, who had been observing her for nearly a year, having been considered missing during that time. [10][11] Blisk commends her fighting spirit, handing her an Apex card and officially inviting her to become a Legend under his sponsorship. [8]
Overtime
[
]
One Saturday in 2733, Parekh completed an Apex Games match on Kings Canyon. After noticing Caustic holding a bloody bag, she and Wattson followed him to a hidden laboratory, where they found him experimenting on starving prowlers. After he discovers and threatens the two, the prowlers escape and begin rampaging through Solace City.
Parekh later arrived at a local hospital with the other Legends, only to be caught under debris from a landing dropship owned by Boss Willis of the Mercenary Syndicate. [12] Parekh then assisted in rescuing the hospital's patients from the rubble.[13]
The First Ship
[
]
Wraith took notice of the failing financial state of Mirage's bar, the Paradise Lounge. In an attempt to help her friend, and much to his chagrin, she allowed Parekh to open the new location of Rampart Mods in the derelict restroom of the bar. Additionally, Pathfinder began to claim that he has a "girlfriend." [14] In protest, Mirage makes a bet with Parekh: If she is not "a five-alarm psycho train wreck," Parekh will stay at the Paradise Lounge. [15]
The two arrive at Pathfinder's home, where they discover that his "girlfriend" is an amnesiac Ash. [16] The two leave after she suffers a power surge. [17]
Returning to the Paradise Lounge, the two pester Wraith about who won the bet. She declares that neither of them "won," and that the two need to learn to coexist. She departs, reminding them to pack for the coming Apex Games matches. [18] Mirage, using this comment as an excuse for petty revenge, loads all of Parekh's belongings onto the Mercenary Syndicate's rocket in World's Edge. [19] Parekh later comforts Pathfinder after Ash leaves him. [20]
Mirage, attempting to make amends with Parekh, buys her flowers, despite her hatred of them. After his falling out with Wraith, Parekh also leaves Mirage, saying that while he may have heard what they told him, he was not truly listening. Mirage, seeking to truly make things right, returns with a bouquet of wrenches. [20]
Season 7 Launch Trailer
[
]
As the Syndicate's rocket launched from World's Edge, Parekh, Mirage, and Pathfinder gave chase, following it to Olympus. [21]
Some time after, Parekh filed a lawsuit against Hammond Engineering to recover her belongings. The final settlement allowed her to open a second storefront for Rampart Mods on Olympus, requiring her to withdraw her lawsuit and modify the Trident vehicle for use in Apex Games matches. Through this, Parekh earned both the respect and ire of Cheryl Amacci, Hammond Engineering's chief legal officer, who felt that she had met her match. [22]
Pathfinder's Quest
[
]
During his search for his creator(s), Revenant tricked Pathfinder into believing that he had killed them. [23] Pathfinder, now despondent, intended to leave the Outlands for good, wishing to say goodbye to Mirage. Instead, he encountered Parekh, who helped him realize that Revenant had tricked him. While reviewing his evidence and footage, Parekh pointed out the similarities between the iconography of the Apex Games and the Apex Predators, the mercenary corps that had provided a security detail for Project Iris. Having found the missing link, Parekh offered to connect the MRVN to Kuben Blisk to help in his search. [24]
The Legacy Antigen
[
]
During the Medusa outbreak, Parekh remained on Olympus to assist in curtailing the spread of the Medusa vines. While fighting off the encroaching foliage, she tells Mirage that, due to her successful suit against Hammond, she can move out at any point. As another act of petty revenge, Mirage destroys several of Parekh's Amped Cover emplacements. The two begin arguing until the arrival of Evelyn Witt, Mirage's mother, whose encouragement reminds Mirage of how it felt to have siblings. Parekh and Mirage reconcile, with Rampart agreeing to stay as a roommate, despite moving her shop. [25]
Season 10
[
]
Eventually, Parekh established another new location for her shop in World's Edge - located inside a large tank known as Big Maude. [26] However, despite cutting ties with Big Sister, she continues to receive threatening messages from Frances. [27]
Season 13 Launch Trailer
[
]
Parekh helped to prepare for Bangalore's retirement party.[28]
Cosmetic Items
[
]
Skins
[
]
There are a total of 59 skins for Rampart; 12 Legendary, 11 Epic, 20 Rare and 16 Common.
Badges
[
]
Heirloom Set
[
]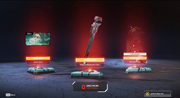 The set contains:
A Banner Pose:

Wrench In Your Plan

A Melee weapon skin:

Problem Solver

A Intro Quip:

"I make things by hand, and kill things by hand."
Finishers
[
]
Skydive Emotes
[
]
Emotes
[
]
Loose Cannon

- 1,200

Rampart Rodeo

- 1,200

Spin Up

- 400

Throwdown

- Default

The Light Bombastic

- Level 67
Banner Frames
[
]
Holosprays
[
]
Transitions
[
]
Music Packs
[
]
Voice lines
[
]
History
[
]
Patch notes
Mobile Minigun "Sheila":

Reduced spin-up time from 1.75 to 1.25.

Amped Cover:

Increased health while deploying from 45 to 120.
Reduced deploy time from 4.25 to 3.6.

To be more specific, the building animation (as noted in the November 04, 2020 Patch) is still 3 seconds, but the upper arm shield extension delay was reduced from 0.25 seconds to 0.10 seconds, the front armor deploy duration was reduced from 0.5 seconds to 0.3 seconds, and the placement delay was reduced from 0.5 seconds to 0.3 seconds.
Ultimate ability:

Changed name from Emplaced Minigun "Sheila" to Mobile Minigun "Sheila".
Now able to run around with Sheila out, and shoot while walking.
The spin-up is longer, and she only gets 1 magazine in this mode.
Once Sheila is out of ammo, you can put it away and pull it back out until you run out of ammo (or hit the cooldown time).
At any point, the turret can still be placed down for your teammates to use. Once placed, it has infinite reloads and acts just like the previous version, but cannot be picked back up.
Amped Cover: Explosives damage Amped Cover normally, instead of inflicting 200 damage.
Emplaced Minigun "Sheila":

Explosives damage Sheila normally, instead of inflicting 175 damage.
Can no longer be used to get under the world when placed too close to the Phase Runner in Olympus.
Fixed an issue with the

Gold Standard

skin having discolored teeth.
Amped Cover: Fixed an issue with the walls at the feet of the players on the train killing them.
Amped Cover:

Build time decreased from 4 seconds to 3 seconds.
Fixed an issue with Rampart not being able to place a wall while jumping.

Emplaced Minigun "Sheila":

Spin-up time decreased from 2 seconds to 1.25 seconds.
Fixed an issue with Sheila teleporting when placed on a hatch in World's Edge Staging.
Emplaced Minigun "Sheila":

Increased the rate at which the bullet spread tightens.
Fixed an issue with being able to place Sheila on loot bins.
Fixed an issue with doors closing when dismounting a placed Sheila in a doorway.

Amped Cover

Fixed Amped Cover from floating in the air when placed on a supply ship.
Fixed an issue with the Longbow DMR, Triple Take, Mastiff Shotgun, and Sentinel not always receiving the Amped Cover buff.
Fixed an issue with Amped Cover being able to be placed at bad angles around the map.
Fixed an issue with the Amped Cover not being destroyed by the initial blast of Charge Rifle.
Fixed an issue with bullets getting amped before they cross the amped wall from certain angles.
Amped Cover: Fixed an issue with the amped cover walls requiring more hits from heirlooms than from normal melee to be destroyed.
Emplaced Minigun "Sheila":

Fixed a server crash when Sheila is destroyed while someone is using it.
Fixed an issue with allowing a player to shoot through Gibraltar's Dome of Protection while using Sheila.
Fixed an issue with Crypto's Surveillance Drone not detecting players on Sheila.

Fixed an issue with the

No Mercy

finisher spamming "Boom" to the entire server.
Amped Cover:

Fixed client error with it in softened gore locales.
Fixed a server error causing immediate disconnects when Rampart puts down a wall.

Emplaced Minigun "Sheila": Fixed an error caused in some instances where a player is on the turret when it is destroyed.
[

]
Trivia
[
]
Rampart's symbol can be found on her clothing, weapons that she modded and in the Graffiti Mod icon. Reactive weapon skins from the Season 4, Season 5, and Season 6 Battle Passes also have this symbol engraved. It is present on Season 6 Battle Pass legendary skin for Pathfinder too.
Rampart has been modding since she was 12 or 13.[29]
The weapons that Rampart modded are called "Ramparts".[30]
Due to some inaccurate leaks, there was a misconception that Rampart was a white male before she was revealed. (The dataminer responsible for the leak admitted that he paired names and faces through guesswork.[31]) When Respawn was accused of "changing" Rampart's design, principal animator Moy Parra responded by stating that the leaked image was never Rampart and that designs cannot be changed on a whim.[32] Knowing that people believed in the bad leaks, writer Tom Casiello seemingly created a male gunsmith character "Reginald" as a red herring to Rampart's identity on Twitter, before Rampart was revealed.
While playing Rampart, the sound of a bubble popping can often be heard after landing on the ground from a fall that is higher than the player jump height since Rampart can be seen chewing gum and blowing bubbles in her menu animations, and in her icon on the legend select screen.
Sheila shares a name with one of Valkyrie's ex's. Valkyrie is not exactly happy about Rampart using that name for her gun, and has asked her multiple times to change its name. [7]
Rampart's Heirloom is the only heirloom to include an animation that involves a different legend entirely, that being Octane's leg in a rare door kick animation.
Rampart is the currently the youngest Legend in the Apex Games (21), followed by Wattson (22) and Crypto (22-23).
Rampart has a great deal of merchandise to her name, including shirts, hats, slippers, and action figures. [3] She additionally seems to have her own brand of beer. [33]
Rampart once mocked Seer by modifying his heart chamber, causing his micro-drones to form the shapes of profanities. [34]
Before moving out of the Paradise Lounge, Rampart stole Mirage's bathroom door. [35]
Gallery
[
]
Videos
Images
References
[
]
Legends
Bloodhound
•
Gibraltar
•
Lifeline
•
Pathfinder
•
Wraith
Valkyrie
•
Seer
•
Ash
•

Mad Maggie
•
Newcastle
Bolded Legends must be unlocked with

750 or

12,000.