Apex Legends content

This article concerns the subject and the content related to it in Apex Legends. For the background of the subject in Apex Legends universe, see Rampart (character).
"
Right, mate. I've been knocked down, taken out, hit from both sides hundreds of times - and that was just in a one gauntlet run on a Thursday. But this... this one was a blast! Big Sister's crap of a gang blindsided me at the shop. I mean, do they think they're from the bloody Fringe Worlds? They ain't that tough. I'm just sayin' if ya gonna throw a party at least book a DJ... or a band if you prefer real music, but don't just show up causin' a ruckus and expect not to get a punch in the bloody face. Those plonkers were just pissed that I ran circles around them in the club - cleaned 'em out pretty good if I don't say so myself. But I ain't stayin' down. Never do. And now, I'm in the bloody big leagues. No more brawlin' for coin against small-town street gangs -

Ab aur nahin

. My shop may be gone, but the name 'Rampart' ain't. I reckon only one thing left to do... go out, make it Legendary, and be back in time for a midnight pint. Now THAT's a Thursday.[1]

Rampart is a Legend introduced in

Season 6 that is locked from the base game. She can be unlocked using digital currency: either

12,000 or

750, or by buying the Champion Edition.
Rampart is a

Defensive Legend that specializes in securing areas through firepower. Her tactical ability

Amped Cover places a rectangular wall. The upper half of a wall blocks a certain amount of bullets taken from one direction, and enhances any bullets fired through from the other direction. Her passive ability

Modded Loader increases reload speed and magazine size with LMGs and her ultimate. Her ultimate ability

Mobile Minigun "Sheila" allows her to use a minigun that she can either carry or place down, but it can only be reloaded while immobile.
Abilities
[
]
Amped Cover
[
]
Modded Loader
[
]
Mobile Minigun "Sheila"
[
]
Lore
[
]
"
Rampart is a blue-collar, private business owner who just needs a big gun and a backpack full of scrap metal to get by in the dangerous, wild west world of the Outlands. Before opening her popular modding shop on Gaea, Ramya Parekh (Rampart for short) made a name for herself in the underground gauntlet circuit. Parekh climbed to the top showcasing pure skill using her custom-modded gear. She began taking jobs from smugglers, Syndicate members, and everyone in between. Some say it ain't great unless it's got "Rampart" written on it.

Parekh never shied away from letting people know how great she was, or better yet, how bad they were. Maybe that's what led a group of assailants to ambush her at her shop one night. Her business burned down and she was left with nothing -- except an Apex Card. For Parekh, the Apex card is more than just an invitation to compete - it's a sign that she may have lost her shop, but she didn't lose what built it. Like her motto says, she's the kind of person who can always "turn crap into gold."
Cosmetic Items
[
]
Skins
[
]
There are a total of 61 skins for Rampart; 14 Legendary, 11 Epic, 20 Rare and 16 Common.
Badges
[
]
Heirloom Set
[
]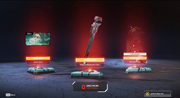 The set contains:
A Banner Pose:

Wrench In Your Plan

A Melee weapon skin:

Problem Solver

A Intro Quip:

"I make things by hand, and kill things by hand."
Finishers
[
]
Skydive Emotes
[
]
Emotes
[
]
Loose Cannon

- 1,200

Rampart Rodeo

- 1,200

Spin Up

- 400

Throwdown

- Default

The Light Bombastic

- Level 67
Banner Frames
[
]
Banner Poses
[
]
Holosprays
[
]
Transitions
[
]
Music Packs
[
]
Voice lines
[
]
History
[
]
Patch notes
Now ignores friendly collision on Amped Cover placement (i.e. placing walls around teammates will feel more smooth).
Mobile Minigun "Sheila":

Reduced spin-up time from 1.75 to 1.25.

Amped Cover:

Increased health while deploying from 45 to 120.
Reduced deploy time from 4.25 to 3.6.

To be more specific, the building animation (as noted in the November 04, 2020 Patch) is still 3 seconds, but the upper arm shield extension delay was reduced from 0.25 seconds to 0.10 seconds, the front armor deploy duration was reduced from 0.5 seconds to 0.3 seconds, and the placement delay was reduced from 0.5 seconds to 0.3 seconds.
Ultimate ability:

Changed name from Emplaced Minigun "Sheila" to Mobile Minigun "Sheila".
Now able to run around with Sheila out, and shoot while walking.
The spin-up is longer, and she only gets 1 magazine in this mode.
Once Sheila is out of ammo, you can put it away and pull it back out until you run out of ammo (or hit the cooldown time).
At any point, the turret can still be placed down for your teammates to use. Once placed, it has infinite reloads and acts just like the previous version, but cannot be picked back up.
Amped Cover: Explosives damage Amped Cover normally, instead of inflicting 200 damage.
Emplaced Minigun "Sheila":

Explosives damage Sheila normally, instead of inflicting 175 damage.
Can no longer be used to get under the world when placed too close to the Phase Runner in Olympus.
Fixed an issue with the

Gold Standard

skin having discolored teeth.
Amped Cover: Fixed an issue with the walls at the feet of the players on the train killing them.
Amped Cover:

Build time decreased from 4 seconds to 3 seconds.
Fixed an issue with Rampart not being able to place a wall while jumping.

Emplaced Minigun "Sheila":

Spin-up time decreased from 2 seconds to 1.25 seconds.
Fixed an issue with Sheila teleporting when placed on a hatch in World's Edge Staging.
Emplaced Minigun "Sheila":

Increased the rate at which the bullet spread tightens.
Fixed an issue with being able to place Sheila on loot bins.
Fixed an issue with doors closing when dismounting a placed Sheila in a doorway.

Amped Cover

Fixed Amped Cover from floating in the air when placed on a supply ship.
Fixed an issue with the Longbow DMR, Triple Take, Mastiff Shotgun, and Sentinel not always receiving the Amped Cover buff.
Fixed an issue with Amped Cover being able to be placed at bad angles around the map.
Fixed an issue with the Amped Cover not being destroyed by the initial blast of Charge Rifle.
Fixed an issue with bullets getting amped before they cross the amped wall from certain angles.
Amped Cover: Fixed an issue with the amped cover walls requiring more hits from heirlooms than from normal melee to be destroyed.
Emplaced Minigun "Sheila":

Fixed a server crash when Sheila is destroyed while someone is using it.
Fixed an issue with allowing a player to shoot through Gibraltar's Dome of Protection while using Sheila.
Fixed an issue with Crypto's Surveillance Drone not detecting players on Sheila.

Fixed an issue with the

No Mercy

finisher spamming "Boom" to the entire server.
Amped Cover:

Fixed client error with it in softened gore locales.
Fixed a server error causing immediate disconnects when Rampart puts down a wall.

Emplaced Minigun "Sheila": Fixed an error caused in some instances where a player is on the turret when it is destroyed.
[

]
Trivia
[
]
Due to some inaccurate leaks, there was a misconception that Rampart was a white male before she was revealed. (The dataminer responsible for the leak admitted that he paired names and faces through guesswork.[3]) When Respawn was accused of "changing" Rampart's design, principal animator Moy Parra responded by stating that the leaked image was never Rampart and that designs cannot be changed on a whim.[4] Knowing that people believed in the bad leaks, writer Tom Casiello seemingly created a male gunsmith character "Reginald" as a red herring to Rampart's identity on Twitter, before Rampart was revealed.
While playing Rampart, the sound of a bubble popping can often be heard after landing on the ground from a fall that is higher than the player jump height since Rampart can be seen chewing gum and blowing bubbles in her menu animations, and in her icon on the legend select screen.
Rampart's Heirloom is the only heirloom to include an animation that involves a different legend entirely, that being Octane's leg in a rare door kick animation.
During very early development, Rampart was concepted as an old woman as revealed by concept art posted by Moy Parra on Twitter.[5]
Gallery
[
]
Videos
Images
Rampart's t-shirt design.[6]
References
[
]
Legends in
Apex Legends
Bloodhound
•
Gibraltar
•
Lifeline
•
Pathfinder
•
Wraith
Seer
•
Ash
•

Mad Maggie
•
Newcastle
•

Vantage
Bolded Legends must be unlocked with

750 or

12,000.