Rampart says: "This page is lacking content, so stop foolin' around and finish it, mates!"

Please add on to the missing part(s) & other pages as best as you can. Rampart can't do it by herself.
The twelfth season of Apex Legends, called Defiance, started on February 8th, 2022 and ended on May 10th, 2022. This season introduced the new legend Mad Maggie, as well as a limited-time gamemode, called Control.
New content
[
]
New Legend: Mad Maggie
New LTM: Control (which will last 3 weeks)
Several changes to Olympus

Phase Driver is added in the newly expanded South side of the map.

This new POI is interactive: when activated, 3 loot rollers will phase in (with at least 1 Gold-Tiered ball).

Terminal, a large interior POI in the Phase Runner tube that siphons phase energy to help power the Phase Driver.
Existing areas like Solar Array's, Icarus', and Bonsai's platforms were all pushed out away from the center of Olympus to fit Phase Driver.

New loot:

Kinetic Feeder

Hop-Up for the Peacekeeper and Triple Take.
Introducing

Prestige Skins

.
Events and limited time offers
[
]
Main article: Events
Battle Pass
[
]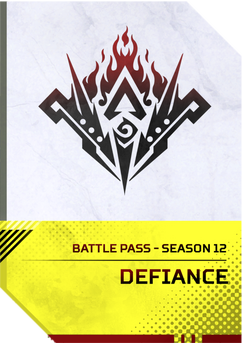 Level
Premium Pass rewards
Free Rewards
1

My Sindiket Report

2

Flip Off

3

Apex Pack

4
120

Defiance

5
100
100
6

XP Boost

[1]
7
Kill Quip:

Don't Be So Shocked... That You're Dead

Apex Pack

8

Bad To The Drone

Season 12 Wins

9

Skull Fashion

Season 12 Kills

10

Lunar Smoke

Always Watching

11

Expand Your Network

Season 12 Wins

12

Broken Toys

Season 12 Kills

13
120

Make A Connection

14

XP Boost

[1]

Season 12 Wins

15
Kill Quip:

Take A Note From A Friend Of Mine

Hard Hearted

16

Geared Mayhem

Season 12 Kills

17

Paisley Parade

Road Warrior

18

City Lights

Season 12 Wins

19

Take A Shot

Apex Pack

20
120

Season 12 Kills

21
100

Green Striker

22

XP Boost

[1]

Season 12 Wins

23

Wins

Season 12 Kills

24

Damage Done

Season 12 Wins

25

Aces High

D.O.C. Audio Log 12.1.0084

26

Kills

Season 12 Kills

27

Buzz Cutter

Season 12 Wins

28
120

Season 12 Kills

29
100

Links To The Past

30

XP Boost

[1]

Season 12 Wins

31

Unstoppable Force

Season 12 Kills

32
Kill Quip:

Only Once Have I Failed To Kill A Target

Season 12 Wins

33

No Chance

Apex Pack

34

Fatal Fuchsia

Season 12 Kills

35

Borealis Displacement

Season 12 Wins

36

Meets Immovable Object

Season 12 Kills

37
120

Sniper Rogue

38

XP Boost

[1]

Season 12 Wins

39
Kill Quip:

Better To Have Friends At Yuh Side

Season 12 Kills

40

Supply Or Die

Season 12 Wins

41

Linked Languish

Pink Ink

42

Rebel With A Cause

Season 12 Kills

43

Double Trouble

Season 12 Wins

44

Trouble Double

Season 12 Kills

45
100

Apex Pack

46

XP Boost

[1]

Season 12 Wins

47
120

Season 12 Kills

48

Wins

Season 12 Wins

49

Kills

The Capture Of M. Kōhere

50

Breaking The Law

Season 12 Kills

51

Damage Done

Season 12 Wins

52

Ghost Writer

Season 12 Kills

53
120

The Quick And The Quilted

54

XP Boost

[1]

Season 12 Wins

55
Kill Quip:

I'll Have To Say No To An Encore

Season 12 Kills

56

Outlaw Seal

Season 12 Wins

57

Death Maker

Mad Maggie

58

Full Throttle

Season 12 Kills

59

Strike A Pose

Season 12 Wins

60
120

Season 12 Kills

61
100

Deadly Links

62

XP Boost

[1]

Season 12 Wins

63

Apex Pack

Season 12 Kills

64

Flame On

65

Bottled Fury

In Session

66

Salvonian Drinking Song

67
Kill Quip:

I Pulled A Fast One On You, Amigo

68
120
69
100

Death Race

70

XP Boost

[1]

Legend Impressions: Mad Maggie

71

Apex Pack

72

Riding In The Red

73

Stitched Up

Apex Pack

74

Zipping Through

75
Emote:

Knockout Gas

76
120
77
100

Good Catch

78

Apex Pack

79

Morning Muffin

80

Piston Punch

81

The Warrior's Feast

Apex Pack

82

Mouth of Metal

83

Apex Pack

84

Skullcrusher

85
100

Rebel Nessie

86

Apex Pack

87

The Block

88

Warped Impact

89

Road Rash

100
90

Eulogy For Navidad 'Navi' Silva

91
Kill Quip:

I Give As Many Craps As Prisoners I Take

92

Pre-Game Warmup

93
100
Kill Quip:

Yeah, Naw, Ya Did Good. I Just Did Gooder

94

Apex Pack

95
100
96

Burnt Rubber

97

Tuesday Nights At Paradise Lounge

Apex Pack

98

Fire Wire

99
Emote:

Primal Nature

100

Gentleman Baller

100
110

Scream Machine

Badge:

Defiance Level Season 12
Battle Pass Rewards
[
]
Legend Skins
[
]
Weapon Skins
[
]
Charms

[

]
Banner Frames

[

]
Holosprays
[
]
Transitions
[
]
Skydive Emotes
[
]
Music Packs
[
]
Videos
[
]