Rampart says: "This page is lacking content, so stop foolin' around and finish it, mates!"

Please add on to the missing part(s) & other pages as best as you can. Rampart can't do it by herself.
The thirteenth season of Apex Legends, called Saviors, started on May 10, 2022 and will end on August 09, 2022.
New content
[
]
Several changes to Storm Point

New POI: Downed Beast
Added IMC Armories, where high tier loot can be obtained by surviving waves of Spectres.

Reworked Ranked
Events and limited-time offers
[
]
Battle Pass
[
]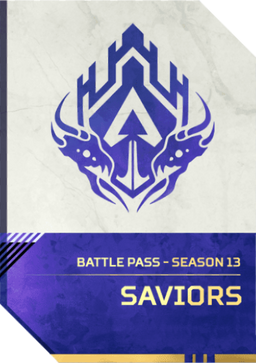 Level
Premium Pass rewards
Free Rewards
1

Pre-Orders Now Open!

2

Three, Two, One

3

Apex Pack

4
120

Savior

5
100
100
6

XP Boost

[1]
7
Kill Quip:

You were all sizzle and no steak

Shedding the Dead

8

Lava Drill

Season 13 Wins

9

Scaled Tapestry

Season 13 Wins

10

Burning Embrace

Season 13 Wins

11

Eat this, Eggs!

Apex Pack

12

Apex Pack

13
120

Lion Tamer

14

XP Boost

[1]
15

Inside the Outlands: Episode 1082.5

Scales and Stripes

16

Brudda in Arms

17

Saint's End

Season 13 Wins

18

All the Tales are True

Season 13 Wins

19
Emote

Side Hustle

Season 13 Wins

20
120
21
100

Fate Sealer

22

XP Boost

[1]
23

Wins

Season 13 Wins

24

Damage Done

25

Sir Fitzroy

Season 13 Wins

26

Kills

Season 13 Kills

27

Regal Seals

Apex Pack

28
120
29
100

Guardian's Battlecrest

30

XP Boost

[1]
31
Kill Quip:

By your hand, through me

Season 13 Wins

32

Charm of Nature

33

Fantastic Trails

Season 13 Wins

34

Cold Sparks

Season 13 Wins

35

Fire At Will

Apex Pack

36

Apex Pack

37
120

Singed Sight

38

XP Boost

[1]
39
Kill Quip:

Real Heroes Get Back Up

Season 13 Wins

40

Crest Ascension

41

Retro Ball

Season 13 Wins

42

The Hot Seat

Season 13 Wins

43

Apex Pack

You Can't Choose Your Family

44
120
45
100

Scaled Silhouette

46

XP Boost

[1]
47

Imbued Fury

Season 13 Wins

48

Wins

Season 13 Wins

49

Kills

Season 13 Wins

50

Feral's Future

Season 13 Wins

51

Damage Done

Apex Pack

52

Margaret Kōhere's Lessons

53
120

Royal Crest

54

XP Boost

[1]
55

ApexGamesDaily Presents...

Season 13 Wins

56
Kill Quip:

We're Not Here To Shag Spiders

Season 13 Kills

57

Lordly Helm

Season 13 Kills

58

Gilded Lineage

Season 13 Kills

59

Tower Defense

Blue Dragon

60

Roger That Boss

61
100

Serpent's Blood

62

XP Boost

[1]
63

Defender Axe

Season 13 Kills

64

Highborn

Season 13 Kills

65

Season 13 Kills

66
Kill Quip:

I Stick A Fork In You, You're Done

Season 13 Kills

67

Apex Pack

Selfish Mistakes

68

The Dragon's Clutch

69
100

Quicksilver

70

XP Boost

[1]
71
Kill Quip:

Look On The Brightside - I Won

Season 13 Kills

72

I Call Dibs

Season 13 Kills

73

Rare Throwback

Season 13 Kills

74

Return to Sender

Season 13 Kills

75

Zip It!

Apex Pack

76
120
77
100

Newcastle

78

Apex Pack

79

Virtual Hero

Season 13 Wins

80

Mighty Incisor

Season 13 Kills

81

No One Looks Up

Season 13 Kills

82

Out With the Old, In With the New

Season 13 Kills

83

Circling Back

Nothing Personal

84
120
85
100

Dragon Crest

86

Apex Pack

87

Battle Crested

Season 13 Kills

88

Contained Corruption

Season 13 Kills

89

Venom Eggs

Season 13 Kills

90

You Can Choose Your Friends

Season 13 Kills

91

Air Defense

Spinal Double Tap

92
120
93
100
100
94

Apex Pack

95
100
Kill Quip:

You Seem A Bit Dense

96

Finders Keepers

Season 13 Kills

97
Emote

Terrible Twos

Apex Pack

98

Wings of Wrath

Season 13 Kills

99
Kill Quip:

I Thought You Were Someone Else

Season 13 Kills

100

Winter Soul

100
110

Molten Soul

Badge:

Saviors Level Season 13
Battle Pass Rewards
[
]
Legend Skins
[
]
Weapon Skins
[
]
Charms

[

]
Lava Drill

Charm of Nature

Crest Ascencsion

Royal Crest

Lordly Helm

I Call Dibs

Mighty Incisor

Battle Crested

Finders Keepers
Banner Frames

[

]
Holosprays
[
]
Transitions
[
]
Emotes
[
]
Skydive Emotes
[
]
Music Packs
[
]
Videos
[
]