The fifth season of Apex Legends, called Fortune's Favor, started on May 12th, 2020 and ended on August 18th, 2020.
New Content
[
]
Introduction of Quests
Several changes to Kings Canyon:

The destruction of the south west corner of the map, with Skull Town, Thunderdome, and surrounding areas collapsed into the sea; Skull Salvage added.
Massive new facilities, ARES Capacitor and Offshore Rig, replacing Wetlands and Relay.
Addition of Charge Towers, a device that provides a blast that restores the ultimate of every player on its platform when triggered.
The removal of Leviathans from the map, being moved to their Preseason and Season 1 state.

New Town Takeover: Crypto's Map Room
Events and limited-time offers
[
]
Battle Pass
[
]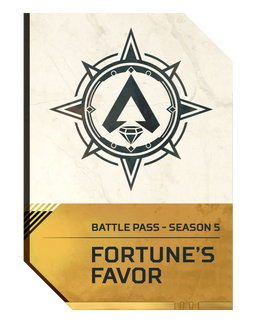 Battle Pass Rewards
[
]
Legend Skins
[
]
Weapon Skins
[
]
Weapon Charms
[
]
Banner Frames
[
]
Skydive Emotes
[
]
Transitions
[
]
Music Packs
[
]
Videos
[
]
Gallery
[
]
Trivia
[
]
This season's launch was pushed back, which caused the Battle Armor event to happen.
This season ended 12 hours early, so in some time zones, it ended on the 17th.[1]
The Fortune's Favor Music Pack was performed by 90 musicians, all individually, and meshed together to sound like a full orchestra, due to social distancing amid the COVID-19 pandemic.[2]
Patches
[
]
Notes
[
]
References
[
]