The sixth season of Apex Legends, called Boosted, started on August 18th, 2020 and ended on November 4th, 2020.
New Content
[
]
New gameplay mechanic: Crafting
Several changes to World's Edge[1]:

3 new massive Hammond Robotics facilities: Launch Site replacing an unoccupied lava field to the west of The Dome, Countdown replacing Drill Site, and Staging replacing a small town that used to sit directly below the train tracks to the west of Harvester.
New Rising Blast Wall mechanic: activating a panel will start the giant blast wall to rise, creating a defensible platform. Can be found in Launch Site, Countdown and Staging.
Mirage Voyage removed.
Addition of new geysers north of The Dome and south of Lava Fissure.
The Train has been stopped, dismantled, and scattered on tracks around the map.

New cosmetic type: Holo-Sprays
New game feature: Cross-play beta
Events and limited-time offers
[
]
Battle Pass
[
]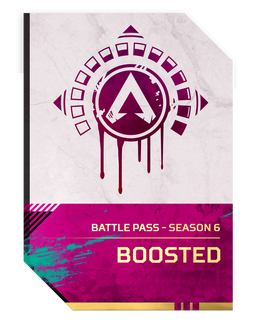 Battle Pass Rewards
[
]
Legend Skins
[
]
Weapon Skins
[
]
Weapon Charms
[
]
Banner Frames
[
]
Holosprays
[
]
Skydive Emotes
[
]
Transitions
[
]
Music Packs
[
]
Videos
[
]
Gallery
[
]
Trivia
[
]
This season launched 12 hours earlier. In some time zones, it launched on August 17th (at 10 pm PT).
A good chunk of the season and its trailer were done remotely due to the COVID-19 pandemic.[2] The mocap was done via Zoom.[3]
This season had an original end date of November 10th, but for some reason, it ended six days earlier, on November 4th.
This is the last season to use the original xp battle pass system before being replaced with battle pass stars
Patches
[
]
Notes
[
]
↑ This event actually began on the 8th, but was suddenly postponed to the 10th after DUMMIEs Big Day was removed due to a bug that caused the entire server to crash if someone AFK'ed on character select. It was replaced with Kings Canyon After Dark on September 10th, with DUMMIEs Big Day eventually returning on September 22nd.
↑ 2.0 2.1 2.2 2.3 2.4 2.5 2.6 2.7 2.8 2.9

XP Boost: 10% bonus to Top 5 and Win XP. Boosts stack and apply to everyone in party (+300% max).
References
[
]