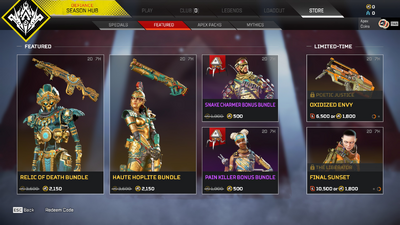 The Store is a menu accessible through the lobby where cosmetics such as weapon or Legend skins, Legend banners and poses,
Charms, and Heirloom Sets can be bought using

Apex Coins,

Legend Tokens, or

Heirloom Shards. The Store is split into multiple sections.
Items
[
]
The main section, called Items, is split into two categories: Featured and Exclusive. It updates weekly at 02:00:00 UTC (GMT+0), except for
Weapon Charms that update daily.
Featured
The Featured category features four slots that can be occupied by Legendary skins,
Weapon Charms,
Holosprays, or bundles. The cost of the bundles depends on which and how many items the bundle contains, with an added discount that is adjusted accordingly if one or more items from the bundle are already in possession. Bundles that offer a skin plus
Apex Packs are made unavailable if the skin is already owned.
While the Store normally offers an alternative purchase method with

Apex Coins for items that can either be crafted with
Crafting Metals or be found in
Apex Packs, since

Season 10 Collection Event items may also appear.
Exclusive
The Exclusive category offers two further Legendary skins, plus a recolored Legendary skin for each of the two skins which can be purchased with

Legend Tokens. The price of the recolored skins depends on their slot position: the skin at the top costs

6,500, the skin at the bottom

10,500.
Store Exclusive Legend Skins
[
]
Store Exclusive Weapon Skins
[
]
Launch Bundles
[
]
Since

Season 7, for the first two weeks of a Season, a Launch Bundle is offered for

3,000. Launch Bundles unlock the newly introduced Legend and contain a Legendary skin for them, a Legendary weapon skin, and an Epic
Charm. After those two weeks pass, the Launch Bundle is removed from the shop.
Event Store
[
]
Whenever a event starts, an Event Store also opens, which can be accessed through the current Season logo in the top left corner of the lobby. For event sales, instead of an Event Store opening, the Items section of the normal Store gets replaced with an Exclusive section, with items from the current event.
Since

Season 10, past event items may appear in the normal Store without an ongoing event.
Event Limited Legend Skins
[
]
Event Limited Weapon Skins
[
]
Event Limited Weapon Charms
[
]
Image
Gun Charm Name
Cost
Availability
Notes

Bobblehead Bloodhound

1,500
Black Friday (2020)
Included in the Legendary Pack Bundle.

Bobblehead Loba

1,400
September Soirée
Included in the 20 Pack Bundle.

Bobblehead Octane

2,000
Black Friday (2020)
Included in the 25 Pack Bundle.

Bobblehead Pathfinder

700
September Soirée
Included in the Legendary Bundle.

Bobblehead Revenant

4,000