System Override
Type
Collection
Start date
Mar 03 2020
End date
Mar 17 2020
Duration
14 days
During
Season 4
Gamemode
Déjà Loot
Mythic Set
Octane's Heirloom Set
System Override was a Collection Event during

Season 4 of Apex Legends that began on March 3rd, 2020 and concluded on March 17th, 2020.
Déjà Loot
[
]
Déjà Loot was a limited-time game mode available during this event. Players drop on a map (World's Edge for the first week, and Kings Canyon for the second) with permanent preset loot as well as daily care package drops, dropship route, and ring locations.
Details
[
]
Loot is not randomly placed. All loot is exactly the same in every match in this game mode.
Every day has a different path for the dropship, as well as ring locations.
Contains a new loot item: the Evo Shield, an alternative to the Body Shield.

Starts with only

25 shield health

.
Dealing damage to non-downed enemies levels up the shield's max health.
Dealing the following damage will reach the NEXT EVO:

100 damage:

50 health

.
300 damage:

100 health

.
500 damage:

125 health

.
Prize Track
[
]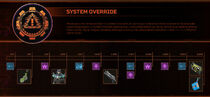 The event had various challenges that can be completed to earn points available for all players.
Prize Track Rewards
[
]
Legend Skins
Weapon Skins
Weapon Charms
Badges
Transition
Music Pack
System Override Collection
[
]
The System Override Collection is a set of 24 cosmetics exclusive to the event. The collection cosmetics can be obtained by:
Purchasing event-exclusive System Override Packs for 700 which will give out one collection cosmetic and two cosmetics from the normal loot table
By direct purchase from the Store: 1,800 for

Legendary

items and 1,000 for

Epics
Completion of the System Override Collection allowed the player to unlock Octane's Heirloom Set before it was added to the Mythic Store.
Collection Cosmetics
[
]
Legend Skins
[
]
Weapon Skins
[
]
Weapon Charms
[
]
Banner Poses
[
]
Skydive Emotes
[
]
Trivia
[
]
The blacked-out words in the event prize track reads, "Don't believe Hammond".
Notes
[
]
↑

All players who logged in during the event received this reward.
Events in Apex Legends
Preseason
Season 1
Season 2
Season 3
Season 4

Valentine's Day Rendezvous

 • 

System Override

 • 

The Old Ways

 • 

Battle Armor

Season 5
Season 6
Season 7
Season 8
Season 9
Season 10
Season 11
Season 12
Season 13
Bolded events are major events. Italicized events are Apex Chronicles.