The Old Ways was a Themed Event for

Season 4 of Apex Legends that ran from April 07, 2020 to April 21, 2020.
Town Takeover
[
]
Bloodhound's Trials
Details
Located on
World's Edge
Loot Tier

High Tier

Area Replaced
Sniper's Ridge
Gameplay
Supply Bins
6
Respawn Beacons
No

When the Apex Games came to World's Edge, large predators vacated the area, leading to an explosion in the prowler population. Most were traced to a nest in the northwest portion of the arena, and here, Bloodhound saw an opportunity: maintain the ecosystem by pitting humans against beasts.
Dive into Bloodhound's Trials, where you and your squad battle against a hoard of prowlers and claim high-tier loot as your reward. But beware of the most dangerous game: fellow Legends who want to scavenge those goods for themselves. In moments of quiet, don't forget to explore the enclosure, especially with a certain hunter at your side.
Prize Track
[
]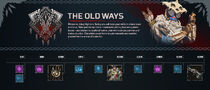 This event continued utilizing the new Prize Track system introduced in the
Grand Soirée arcade event, however, this time, the maximum amount of points you can get was decreased to 4000.
Challenge Rewards
[
]
Legend Skin
[
]
Weapon Skin
[
]
Weapon Charm
[
]
Badge
[
]
Loading Screen
[
]
Music Pack
[
]
Store Cosmetics
[
]
New Skins
[
]
Legend Skins
[
]
Weapon Skins
[
]
Banner Frames
[
]
Returning Skins
[
]
Legend Skins
[
]
Weapon Skins
[
]
Bone SAW
M600 Spitfire
1,800
April 11-14

Goldmine Gremlin
VK-47 Flatline
1,000
April 15-18
Trivia
[
]
Some of the event skins are related to the Stories from the Outlands short The Old Ways.

For example, the

Wise Warrior

skin for Bloodhound is a direct reference to their uncle Artur, who wore the same helmet and shield as the skin.
Notes
[
]
↑

All players who logged in during this event received this reward.