War Games
Type
Themed
Start date
Apr 13 2021
End date
Apr 27 2021
Duration
14 days
During
Season 8
Gamemode
Second Chance
Armor Regen
Ultra Zones
Auto Banners

War Games was a Themed Event for

Season 8 of Apex Legends that ran from April 13, 2021 to April 27, 2021.
Game Modes
[
]
All of these game modes were playlist takeovers rather than LTMs. Similar to the
Grand Soirée event, the game modes in this event rotated often, instead of only one game mode through the entire duration of the event. The announcer for each of these game modes was Mad Maggie.
Image
Description

Second Chance[note 1]
After they die, players receive a Respawn Token that can be used to respawn above the position they were eliminated at once per match. When players die the first time, they keep the items they had when they died, and also drop a Shield Cell, a Syringe, and a stack of ammo.
Ran: April 13, 2021

Armor Regen
Shields automatically regenerate over time (at a rate of 12hp/sec) after not taking damage. Shield Cells removed from the loot pool.
Ran: April 13, 2021 - April 15, 2021 (replaced Second Chance); April 21, 2021 - April 27, 2021

Ultra Zones
Three hot zones spawn throughout the map, each inside a Flash Point.
Runs: April 15, 2021 - April 19, 2021; April 19, 2021 - April 21, 2021 (replaced Auto Banners)

Auto Banners
Banner cards are automatically retrieved. Loot pool is loaded with Mobile Respawn Beacons.
Ran: April 19, 2021
Challenges
[
]
This event continues to utilize the LTM challenge

Badge system.
Badge -

War Games Artist

Win 5 games during the event
Badge -

War Games Champion

Knock down 250 players during the event
Badge -

War Games Prodigy

Earn all other War Games badges
Badge -

Master of the War Games
Challenge rewards
[
]
Badges
Prize Track
[
]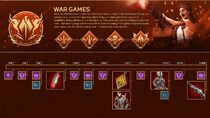 This event continued to utilize the Prize Track system, and the maximum amount of points the player could've gotten was 5000.
Prize Track Rewards
[
]
Legend Skins
Weapon Skins
Weapon Charms
Badge
Store Cosmetics
[
]
Legend Skins
Bundles
[
]
Any of the normal items in the bundle (not the War Games skins) were still craftable with
Crafting Metals. Any items that the player already owns or crafted discounted the price of the bundle.
Trivia
[
]
At the beginning of the event, Second Chance had a bug where after the player got respawned the first time, the kills and time survived earned beyond that point would not be counted towards stats. This was because the game thought the player was still dead even after being respawned the first time. It was removed 8 hours after the event started and replaced with Armor Regen.[1]
Due to some more issues, Auto Banners was turned off and replaced with Ultra Zones again. On April 19th, 2021, Respawn announced that Ultra Zones would run until April 21st, and Armor Regen will return after that until the 27th. Killing Time will be saved for a future date to avoid any further issues.[2]
Originally, the game modes were supposed to rotate every two days, and there were supposed to be seven game modes rather than five. Two game modes were scrapped from the event:[3]

"Flare Up", which would've originally had multiple short-lived Ring Flares (lasting about 45 seconds) across the map, but it was scrapped due to the backlash about Ring Fury and the fact that it would've been another variant of Ring Fury.
"Armed Drop", which would've given the players a full loadout at the beginning of a match, but was scrapped because it wasn't fulfilling the goals of the event and/or because it may have been another variant of Locked and Loaded.
Notes
[
]
↑ While this game mode is active, Players will be unable to unlock Assassin, Wake, or Wrath Badges, since these prestigious badges would be far easier to unlock in this mode.
References
[
]
Events
Preseason
Season 1
Season 2
Season 3
Season 4
Season 5
Season 6
Season 7
Season 8

Anniversary

 • 

Chaos Theory

 • 

War Games

 • 

Decrypt the Passcode

 • 

Golden Week

Season 9
Season 10
Season 11
Season 12
Season 13
Bolded events are major events. Italicized events are Apex Chronicles.